Professor Aiken joins an illustrious list including former US presidents John F. Kennedy and Bill Clinton, Nelson Mandela and Mother Teresa.
May 12, 2022 – Washington D.C. – Professor Mary Aiken, cyberpsychologist and integral member of Paladin's Strategic Advisory Group, has been conferred the prestigious award of Honorary Freedom of the City of Dublin.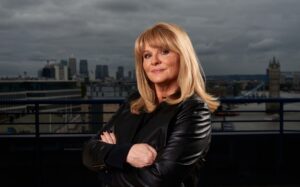 The Lord Mayor of Dublin Alison Gilliland and Dublin City Council paid tribute to Dr Aiken for her work in the areas of cyberpsychology, online safety and security.
"This is an amazing honor given to truly exceptional people," said Michael Steed, Founder and Managing Partner of Paladin Capital. "Professor Aiken has almost single-handedly established the study of cyberpsychology and this honor underscores the impact of Mary's work in the area of online safety."
"Together we have worked on the first-of-its-kind report on the US Safety Tech market released in February and are actively examining the latest technology solutions to the growing safety and security challenges faced by humans online. With Mary's guidance, Paladin is establishing itself as a pioneering investor in the emerging online safety technology sector."
"We are lucky to count Mary as a colleague and agree with Dublin's Lord Mayor that she is an inspiration."
Professor Aiken added: "I am delighted to receive this award for my services to online safety and security worldwide – an ancient award for addressing very contemporary problems. I am also delighted that this award will raise awareness regarding online safety and security, particularly in terms of those who are vulnerable. I want to thank the team at Paladin for their steadfast interest in, and support of my work in this area."
The conferral ceremony will take place in the Round Room at the Dublin Mansion House, on June 11 2022.
Ancient duties of a Freeman or Freewoman include being ready to defend the city from attack and joining the city militia at short notice. Amongst the ancient privileges afforded to a Freeman or Freewoman is the right to bring goods into Dublin through the city gates, without paying customs duties; the right to pasture sheep on common ground within the city boundaries; and the right to vote in municipal and parliamentary elections.
About Paladin
Paladin Capital Group was founded in 2001 and has offices in Washington DC, New York, London, Luxembourg, and Silicon Valley. A multi-stage investor, Paladin focuses on companies with technologies, products, and services that meet the challenging global cyber security and digital infrastructure resilience needs of commercial and government customers. Follow the firm on Twitter @Paladincap and visit www.paladincapgroup.com.