by Christopher Steed
These are exciting times for threat intelligence provider Digital Shadows, as it enters the next stage of its growth journey by joining Reliaquest, the KKR-backed SaaS cybersecurity platform that helps organizations achieve consistent security outcomes.
When we first invested in Digital Shadows in a $14m Series B in 2016, the company had carved out a unique position as the only platform offering organizations "cyber situational awareness". That year was an inflection point for cybersecurity, with massive data breaches and malware campaigns casting a shadow across the business world.
The message that Paladin had long advocated – that legacy solutions, siloed processes, and under- investment in training exposed corporates to existential threats – was getting through. As organizations digitised and moved to the cloud, a new solution was desperately needed by overwhelmed security teams.
The founders of Digital Shadows, Alastair Paterson and James Chappell, had foreseen the need, and built SearchLight™, a cyber situational awareness tool. Searchlight continuously monitors data sources in multiple languages across the visible, deep and dark web. The platform provides a view of an organization's digital footprint and the profile of its attackers, including potential threats, attacker profiles, evidence of sensitive data loss, or negative impacts to brand integrity.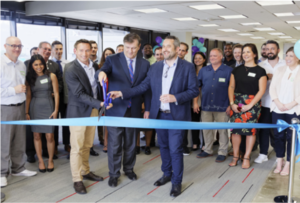 Paladin's global strategy helps us identify and support, at an early stage, compelling technologies that will serve both global enterprises and governments. What excited us about Digital Shadows was that its capability extended beyond digital risk monitoring. Its ability to collect and curate open and dark web data meant that it could provide intelligence that would help businesses mitigate broader risks and that make better decisions.
A central tenet of Paladin's investment approach is that the cyber companies we back not only deliver digital security, but they also add commercial value to organizations, providing customers with a powerful return on investment. Digital Shadows' Searchlight is just such a tool. It eliminates the information overload that plagues many security teams. It uses a proven threat model, which adapts to an organization's risk profile and appetite, to generate relevant and actionable threat intelligence.
In 2016, we could see that Digital Shadows had a winning formula from the rapid adoption of its solution by large enterprises. The team needed to accelerate the development and hiring of talent, which Paladin's investment alongside other prominent VCs allowed it to do. The company also poured resources into product innovation, first adding mobile application support and increased dark web capabilities.
Digital Shadows was founded in the UK but had quickly become established in the US, and there was clearly a global appetite for its product. A year later, the company needed fresh capital to expand internationally and keep innovating. We were pleased to help accelerate their international expansion by joining their $26M funding round in 2017.
Fast forward five years and Paladin has continued to support this great business, as it has built from hundreds to thousands of customers, providing 24×7 coverage across Europe, the US and APAC.
The pending acquisition by the leading Open XDR platform, Reliaquest, is a fantastic testament to the hard work of this impressive team and gives them the resources to continue to develop the business and product, benefiting both employees and customers.
Alastair Paterson, CEO and Co-founder, confirmed: "When Paladin approached us to invest, they brought us a clear vision of why they believed Digital Shadows was positioned to become a leader in cyber threat intelligence. The specialist knowledge and network that Paladin, as a cyber-focused investor, has been able to bring to Digital Shadows over these past six years has been immensely helpful."
Paladin has just raised over $370m to back innovative, early-stage companies like Digital Shadows that need venture capital backing to develop their product, team and global footprint. If you are building a business in cybersecurity, please get in touch.
About Paladin Capital Group
Paladin Capital Group was founded in 2001 and has offices in Washington DC, New York, London, Luxembourg, and Silicon Valley. As a multi-stage investor, Paladin Capital Group's core strength is identifying and supporting innovative companies that develop promising, early-stage technologies to address the critical cyber and advanced technological needs of both commercial and government customers. Combining proven investment experience with deep expertise in global security, cyber technology, and cutting-edge research, Paladin has invested in more than 60 companies and has been a trusted partner to investors, entrepreneurs, and governments for over two decades. Follow the firm on Twitter @Paladincap and visit www.paladincapgroup.com