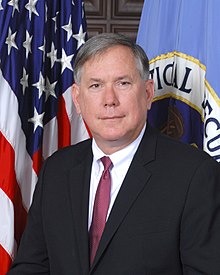 Richard H. Ledgett Jr. is a recognized expert in cyber threats, and spent nearly 30 years with the National Security Agency (NSA). He was its deputy director and acting chief operating officer from 2014 until his retirement in 2017.
Ledgett began his NSA career in 1988. From 2012 to 2013 he directed the NSA/Central Security Service National Threat Operations Center (NTOC), responsible for round-the-clock cryptologic activities to discover and counter adversary cyber efforts. Prior to NTOC he served in the Office of the Director of National Intelligence in both the collection and cyber mission areas. Ledgett was the first national intelligence manager for cyber at the Office of the Director of National Intelligence. He was principal adviser to the Director of National Intelligence on cyber matters, overseeing the creation of the Unified Intelligence Strategy for Cyber, and leading cybersecurity work across the intelligence community.
He served in a joint intelligence community operational activity, and as an instructor and course developer at the National Cryptologic School. Ledgett also spent nearly 11 years in the U.S. Army working in signal intelligence. Between the Army and NSA, he completed six field tours.
Ledgett was awarded the National Security Medal in January 2018. He has also received the Distinguished and Meritorious Executive Presidential Rank Awards, the NSA Exceptional Civilian Service and Meritorious Civilian Service Award, as well as the National Intelligence Superior Service Medal.
He holds a bachelor's degree in psychology and a master's degree in strategic intelligence. In addition to the National Cryptologic School, he has been an adjunct instructor at the Joint Military Intelligence College.