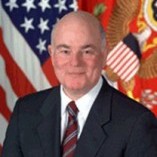 The Honorable Francis J. Harvey
Team: Strategic Advisory Group
Sec. Harvey was nominated to be the 19th Secretary of the United States Army on September 15, 2004 by President George W. Bush. In this position, he served as the senior civilian official within the Department of the Army. He was responsible for all matters relating to Army manpower, personnel, reserve affairs, installations, environmental issues, weapons systems and equipment acquisition, communications, and financial management, as well as an annual budget of $98.5 billion and over one million soldiers, personnel, and contractors.
Just prior to becoming the Secretary, Dr. Harvey served on several corporate boards including three portfolio companies of the Carlyle Group where he was the vice chairman of the board for two of these companies. Between 1997 and 2004, he served on a total of ten different corporate and non-corporate boards. He spent the majority of his business career at Westinghouse Electric Corporation serving in a variety of executive roles during his 28 years with the company. At the present time, he is on six corporate boards and nine advisory boards.
Dr. Harvey earned his doctorate in Metallurgy and Material Sciences from the University of Pennsylvania and his Bachelor of Science in Metallurgical Engineering and Material Science from the University of Notre Dame.